At Metropolitan Dental, your smile makes us happy.
Dentist Berwyn, IL - Metropolitan Dental, SC
We speak Hungarian, Polish, Czech, and Slovak!
At Metropolitan Dental your smile makes us happy. We are a world-class Chicago dental office located in Berwyn, Illinois – only minutes from the heart of downtown. Metropolitan Dental is dedicated to providing you with everything you need to keep your teeth healthy and your smile shining bright.
The new tooth-colored fillings made of porcelain are now manufactured to bond with the back teeth; actually making them more solid than any previous filling material. And you may not have to lose a lot of existing tooth structure as you would if you had a crown made! Beautiful porcelain veneers for front teeth can blend with your normal shades or completely change your teeth to a different color. It covers permanent stains like those caused by tetracycline antibiotic and some inherited discolorations. It is possible to reshape and recolor badly shaped and crooked teeth. Closing spaces between front teeth is a problem that is easily overcome with the improved stronger porcelains.
Welcome
Learn about why Metropolitan Dental is Chicago's premier provider of dental services.
From the smiling faces who greet you at the door, to the dental technicians who keep your smile looking its best, everyone at Metropolitan Dental has been hand-picked because of their expertise in the dental field, and just an important, their dedication to helping you enjoy the best possible care.
Read more...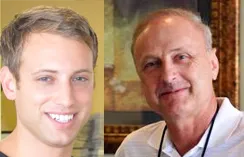 Meet our elite dentists
Two of Chicago's most elite dentists specializing in cutting-edge procedures.
Metropolitan Dental is the brainchild of a lead dentist, Dr. Attila Juhasz, D.D.S. and the skilled Dr. Michael Auriemma, D.M.D. The two talented dental specialists looked at the Chicagoland dental landscape and knew there "had to be a better way." That's why they created Metropolitan Dental – a place where patients could take advantage of cutting-edge technology and still enjoy the comforts of a warm, family run business where everyone knows your name.
Read more...
---
Testimonial
I neglected my teeth for years…but if I had known about Metropolitan Dental I never, ever would have let all that time go by before seeing someone. You guys just make it so easy....

Steve L.